News Details
Manning & Kass Climbs 9 Spaces on NLJ 500 List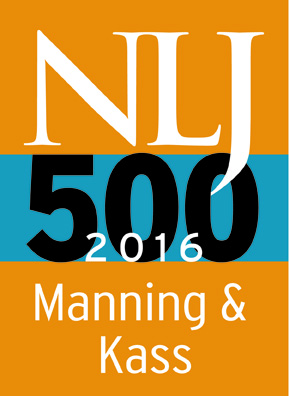 Manning & Kass, Ellrod, Ramirez, Trester LLP has climbed nine spaces since last year's National Law Journal, or "NLJ" Survey. This is the annual survey's inaugural year as the" NLJ 500." Previously, the list was limited to 350 firms. The ALM publication's decision to increase the number of firms on the list is the largest increase since the first NLJ Annual Survey launched in 1978, ranking 200 firms.
The firm's growth is more impressive because it represents an organic increase in attorney headcount, in contrast to mergers and acquisitions. Furthermore, overall growth in the largest 350 firms was only .6 percent in 2014, and then decreased by .6 percent in 2015.
The firm's continued growth, according to managing partner Steve Manning, "is due in large part to the firm's commitment to constant improvement and our team concept. With the team approach, a lean, carefully chosen group of attorneys is assigned each client and led by a single individual conversant with all the client's work with the firm."