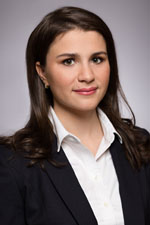 Natalya Vasyuk is a Partner in the Los Angeles office of Manning Kass. She is a member of the Business Litigation, Corporate and Commercial Transactions, Entertainment Law, Intellectual Property, and Sports, Recreation, and Attractions Law teams.
Ms. Vasyuk's practice is primarily comprised of matters involving intellectual property and business law. As a litigator, Ms. Vasyuk represents clients in disputes involving breach of contract, copyright and trademark infringement, shareholder actions, and corporate officer liability. In her transactional practice, Ms. Vasyuk has advised clients on a broad range of business-related matters, including corporate formation and maintenance, subsidiary formations, liability assessments, licensing and compliance, trademark registration, and contract negotiation.
Prior to joining Manning Kass, Ms. Vasyuk practiced in the long-term care and elder abuse areas, representing elder and dependent adult victims of neglect and abuse. Ms. Vasyuk has also represented clients in general negligence, premises liability, and ERISA actions.
Ms. Vasyuk earned her law degree from the University of Edinburgh Law School where she focused on Corporate and Information Technology Law and graduated with honors. During her studies, Ms. Vasyuk participated in a year-long exchange program with the University of Texas, Austin School of Law. Ms. Vasyuk obtained her Master of Laws from the University of California, Los Angeles School of Law where she completed a specialization in Entertainment, Intellectual Property and Media Law.
Ms. Vasyuk is admitted to practice in California. She is fluent in Russian.
Education
University of California, Los Angles School of Law, Master of Laws, in Entertainment, Intellectual Property and Media Law
University of Edinburgh Law School, Bachelor of Law in Corporate and Information Technology Law, with honors