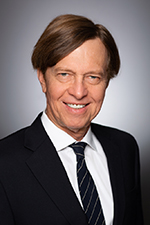 Steven W. DeLateur

Partner
Steven W. DeLateur is a Partner in the Orange County office of Manning Kass. He the leader of the Immigration Law and Land Use teams, and a member of the Corporate and Commercial Transactions and Real Estate teams.
Licensed in the State of California, the District of Columbia, and the Commonwealth of Virginia, Mr. DeLateur has more than thirty-five years of experience in real estate and business and immigration law. Mr. DeLateur's practice focuses mainly on land development and permitting, US and international business contracts, export and import transactions, and business investor visas. Prior to moving to California, Mr. DeLateur was Senior Loan Officer at the US Export-Import Bank in Washington, D.C., where he counseled hundreds of businesses with respect to insuring and financing export transactions.
Mr. DeLateur graduated, cum laude, from the University of Arizona, and holds an MBA from Thunderbird Graduate School of International Business and a Juris Doctor from George Mason University School of Law. He is a past Chair of the International Law and the Real Property Law Sections of the California Lawyers Association and has served as the Chair of the Planning Commission of the City of Indian Wells, California. Mr. DeLateur, who is fluent in French, previously studied international business and commercial law in Paris, France, and has been listed as a French-speaking attorney by the French Consulate in Los Angeles, California. He is a regular speaker and presenter on topics concerning land use and business law.
Education
George Mason University School of Law, Juris Doctor
Thunderbird Graduate School of International Business, Master of Business Administration
University of Arizona, Bachelor's Degree, cum laude